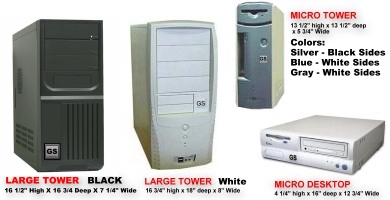 CPU Model
Min
Speed
Max
Speed


Usage, Comments

Celeron
2.6 Ghz
3.2 Ghz
Home or Business, Internet, office applications
Pentium 4
2.8 Ghz
3.4 Ghz
Multimedia for Home or Business
Media Center
2.6 Ghz
3.2 Ghz
Windows 2005 Media Center Entertainment
Pentium 4 - TG
3.6 Ghz
>3.6 Ghz
Professional High Performance, Dual Core
Copyrightę 1996 - 2003 GS Communications USA, Inc.
All Rights Reserved. Not responsible for any typographical errors. All prices, specifications and availability subject to change without notice. All product names are trademarks of their respective companies.

CASE
STYLES

You can select you system case style to you needs!

LARGE TOWER
Height:16 3/4 "
Width: 8"
Depth: 14"
Most Expandable
2 - 3.5" Drives
4 - 5.25" Drives
Front On-Off
Rear Audio
2 - Front USB
Color: White

MICRO TOWER
Height:13 1/2 "
Width: 5 3/4"
Depth: 13 1/4"
Small Tower for Limited Space
1 - 3.5" Drive
1 - 5.25" Drive
Front On-Off
Rear Audio
2 - Front USB
Color: White & Blue

MICRO DESKTOP
Height:13 1/2 "
Width: 5 3/4"
Depth: 13 1/4"
1 - 3.5" Drive
1 - 5.25" Drive
Front On-Off
Front Reset
Front Audio
2 - Front USB
Color: White